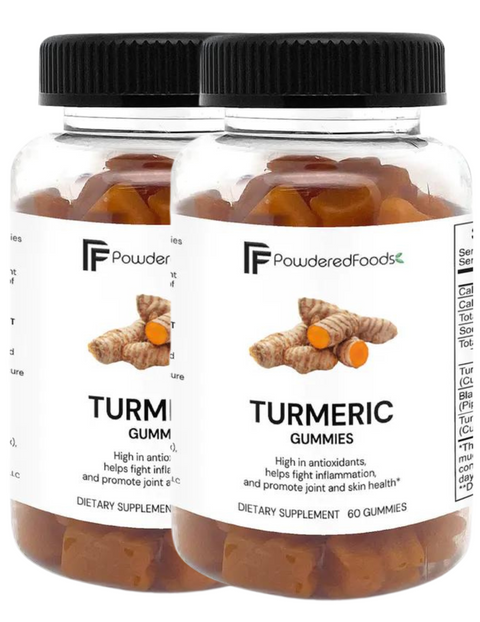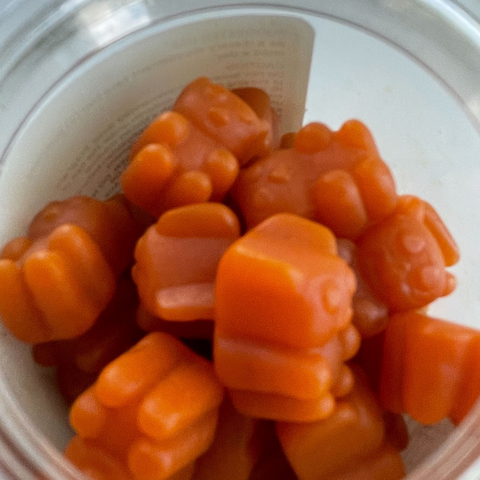 Powdered-Foods
Turmeric Gummies 2 Pack
The active ingredients found within turmeric are known to reduce inflammation and exert antioxidant benefits.
Product benefits:
Helps fight inflammation

High in antioxidants

Supports joint health

Promotes healthy skin
TUMMERIC GUMMIES: Turmeric has been shown to have many benefits, but did you know it can also be found in delicious gummy form? These great tasting gummies will make your taste buds happy and give them a boost!
JOINT SUPPORT: The perfect recovery snack for when you're physically overextended. With their support of healthy inflammation response and ability to soothe tired joints*, they'll make sure your body has what it needs after a tough workout or long day at work!
ANTOXIDANT: Turmeric provides one of the best kept secrets in nature, curcuminoids. These antioxidants help to fight against inflammation caused by physical overexertion and provide you with an all-around healthy lifestyle!
ULTRA HIGH ABSORPTION: These gummies are made with water dispersion technology that allows them to be ultra high absorption and provide all the benefits naturally.
Boost Brain Derived Neurotrophic Factor (BDNF): Before scientists didn't realize how neurons could divide and multiply after early childhood, but now we know they are capable of forming new connections. One important driver in this process is BDNF genes' role creating an protein responsible for promoting the life Israel-derived Neurons - which means it has both physiological effects on our bodies as well 25+ mental benefits!
Ingredients: Turmeric Extract (Curcuma longa L.) (root), Black Pepper Extract (Piper nigrum)(fruit), Turmeric Powder (Curcuma longa L.)(root), Glucose Syrup, Sugar, Glucose, Pectin, Citric Acid, Vegetable Oil (Contains Carnauba Wax), Ginger Flavour.
Manufacturer country: USA
Amount: 60 gummies
Bruto weight: 221g (0.49lb)
Usage: As a dietary supplement take two (2) capsules once a day.
Caution: Do not exceed recommended dose. Pregnant or nursing mothers, children under the age of 18, and individuals with a known medical condition should consult a physician before using this or any dietary supplement