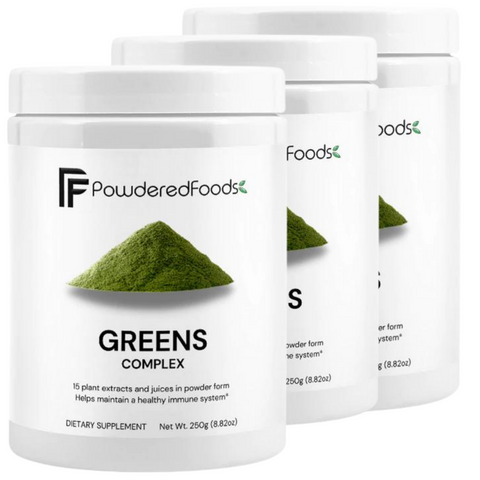 Powdered-Foods
Powdered Greens complex 3 Pack
Greens Complex – The Perfect Green Juice to Start the Day with!
A carefully selected blend of 15 premium greens extracts powdered to allow you a great start for the day!
Acts as a rich source of phytonutrients extracted from premium quality green vegetables and juices.
Does not contain any artificial sweeteners, colors, flavors, and preservatives.
Prominent Benefits:
Rich Source of Vitamins and Minerals:

 

Contains many essential micronutrients such as vitamins A, B, C, D, E, K; minerals like potassium magnesium, iron, copper, and many important fibers!
Gets You Ready for the Day:

 

Acting as a multivitamin and a rich source for electrolytes, Green Complex boosts the production of important enzymes and hormones to allow more energetic, driven, and focused days while promoting health blood sugar rates!

[1]

Boosts Brain Activity and Sharpens Your Mind:

 

Contains electrolytes that plays an important part in neurotransmission and keeps your mind fueled throughout the day!

[2]

Promotes Healthy Immune Systems:

 

With its rich composition of immunity stimulating vitamins such as vitamin C and D, helps protecting your body from sicknesses!

[3]
15 plant extracts and juices in powder form. An exclusive formula that provides the body with phytonutrients, which is an important part of a balanced diet. Contains various phytonutrients derived from natural extracts and juices. Helps to increase the variety of plant-based nutrients in the diet. Does not contain artificial sweeteners, colors, flavors and preservatives
Ingredients: broccoli extract, spirulina powder, chicory root extract, carrot juice concentrate, orange juice concentrate, acerola juice concentrate, blackcurrant juice concentrate, red beet juice concentrate, wheat germ extract, kale cabbage powder, coconut water, green tea extract, green tea extract sea buckthorn seed extract, rose hips extract.
Ingredients country of origin: Italy, Austria

Manufacturer country: Latvia
Amount: 250g
Bruto weight: 290g (0.64lb)
Usage: Mix one tablespoon (5 g) with water, milk, kefir, yogurt, juice or honey. Suitable for use in green cocktails, salads and sauces.







[1] Neuhouser, M. L., Wassertheil-Smoller, S., Thomson, C., Aragaki, A., Anderson, G. L., Manson, J. E., Patterson, R. E., Rohan, T. E., van Horn, L., Shikany, J. M., Thomas, A., LaCroix, A., & Prentice, R. L. (2009). Multivitamin use and risk of cancer and cardiovascular disease in the Women's Health Initiative cohorts. Archives of internal medicine, 169(3), 294–304. https://doi.org/10.1001/archinternmed.2008.540.
[2] Macpherson, H., Silberstein, R., & Pipingas, A. (2012). Neurocognitive effects of multivitamin supplementation on the steady state visually evoked potential (SSVEP) measure of brain activity in elderly women. Physiology & behavior, 107(3), 346–354. https://doi.org/10.1016/j.physbeh.2012.08.006.
[3] Huijskens, M. J., Walczak, M., Koller, N., Briedé, J. J., Senden-Gijsbers, B. L., Schnijderberg, M. C., Bos, G. M., & Germeraad, W. T. (2014). Technical advance: ascorbic acid induces development of double-positive T cells from human hematopoietic stem cells in the absence of stromal cells. Journal of leukocyte biology, 96(6), 1165–1175. https://doi.org/10.1189/jlb.1TA0214-121RR.
[4] Wright, E., Jr, Scism-Bacon, J. L., & Glass, L. C. (2006). Oxidative stress in type 2 diabetes: the role of fasting and postprandial glycaemia. International journal of clinical practice, 60(3), 308–314. https://doi.org/10.1111/j.1368-5031.2006.00825.x
[5] Holmquist, C., Larsson, S., Wolk, A., & de Faire, U. (2003). Multivitamin supplements are inversely associated with risk of myocardial infarction in men and women--Stockholm Heart Epidemiology Program (SHEEP). The Journal of nutrition, 133(8), 2650–2654. https://doi.org/10.1093/jn/133.8.2650.
[6] Neuhouser et al (2009).