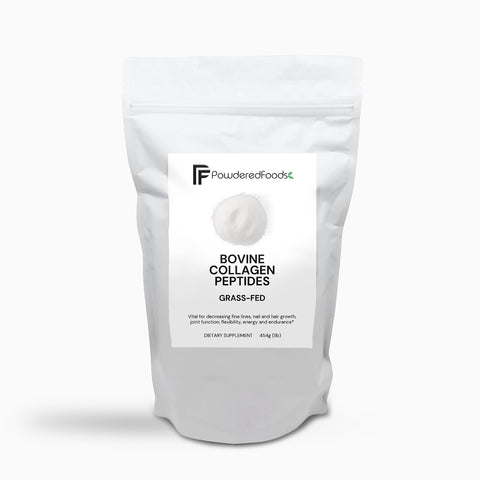 Powdered-Foods
Grass-Fed Bovine Collagen Peptides
As early as age 25, the body's collagen production starts decreasing. Our collagen Peptides replace that lost collagen.
Collagen Peptides are vital for:
Decreasing fine lines
Nail and hair growth
Skin tone
Joint function and flexibility
Muscle tone
Energy and endurance
Natural sleep
This 100% bovine collagen is the purest form of collagen. It is not contained with antibiotics, pesticides, allergens, hormones, heavy metals, gluten, GMO, rBCG or BSE. Made without additives, fillers or preservatives.
Ingredients: 100% grass-fed beef collagen peptides
Manufacturer country: USA
Amount: 454 g (1lb)
Bruto weight: 454 g (1lb)
Usage: Add 1 scoop (11g) to your favorite beverage. Stir to dissolve. May also be added to soups or other recipes with ample liquid. (Scoop included).
Warning: Collagen is not a complete protein. Do not use to replace dietary protein or for weight reduction.
Storage: Store in a cool, dry place. Significant product settling may occur.