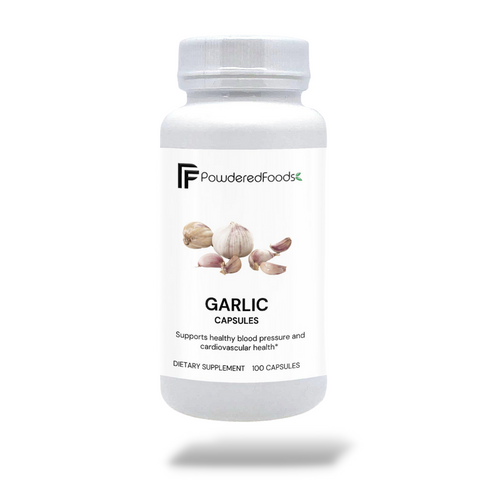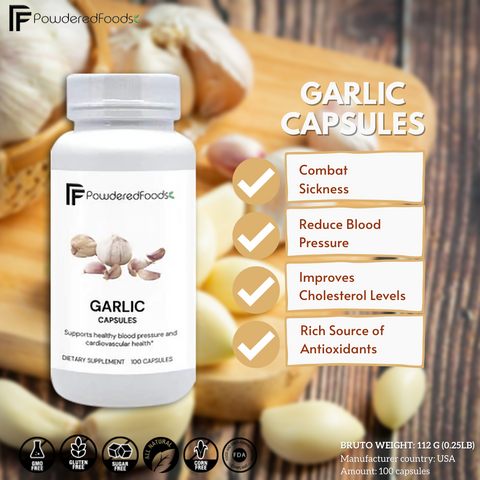 Powdered-Foods
Garlic
Garlic Capsules – Support Cardiovascular Health, Recover from Cold and Flu Faster!
Produced from time-tested, clinically studied, and properly aged garlic extract.
Dried, dehumidified, and deodorized to 150% higher potency!
Prominent Benefits:
Combat Sickness: Outperformed placebo to reduce sick days from flu and common cold by 61%. That's more than 2 times faster recovery speed!
Reduce Blood Pressure: Aged garlic may help promote healthy blood pressure!
Improves Cholesterol Levels: May lower bad LDL cholesterol while promoting healthy increase of the good HDL by around 15%!
Rich Source of Antioxidants: Promotes healthy protection against oxidation!
[1] Nantz, M. P., Rowe, C. A., Muller, C. E., Creasy, R. A., Stanilka, J. M., & Percival, S. S. (2012). Supplementation with aged garlic extract improves both NK and γδ-T cell function and reduces the severity of cold and flu symptoms: a randomized, double-blind, placebo-controlled nutrition intervention. Clinical nutrition (Edinburgh, Scotland), 31(3), 337–344. https://doi.org/10.1016/j.clnu.2011.11.019.
[2] Silagy, C., & Neil, A. (1994). Garlic as a lipid lowering agent--a meta-analysis. Journal of the Royal College of Physicians of London, 28(1), 39–45.
[3] Amagase, H., Petesch, B. L., Matsuura, H., Kasuga, S., & Itakura, Y. (2001). Intake of garlic and its bioactive components. The Journal of nutrition, 131(3s), 955S–62S. https://doi.org/10.1093/jn/131.3.955S.
This Garlic formula is designed to support healthy blood pressure and cardiovascular health through the use of time-tested and clinically studied aged garlic extract. The product contains pure deodorized whole garlic – only the moisture has been removed. Five hundred milligrams is equivalent to 1250 milligrams of whole garlic before the moisture has been removed. Garlic contains antioxidants that support the body's protective mechanisms against oxidative damage. High doses of garlic supplements have been shown to increase antioxidant enzymes in humans, as well as significantly reduce oxidative stress in those with high blood pressure. Medical research links garlic to a number of health benefits. However, some studies have suggested that raw garlic may be more effective than the cooked version, while garlic supplements are the most effective.
Ingredients: 100% garlic extract
Other Ingredients: gelatin (capsule), rice flour, vegetable lubricant.
Manufacturer Country: USA
Amount: 100 caps
Bruto weight: 112 g (0.25lb)
Usage: Take one capsule at each meal, or more, as directed by a health care professional.