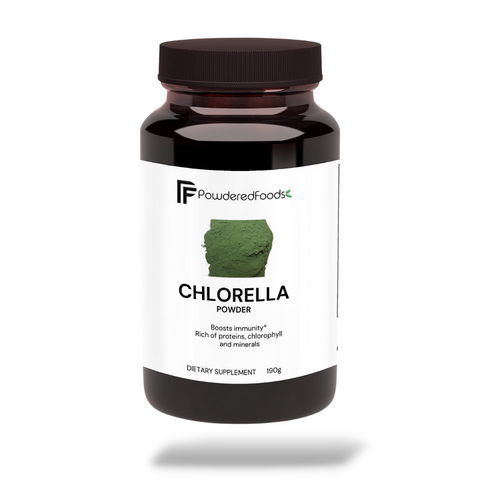 Powdered-Foods
Chlorella powder
Chlorella Powder – Your Daily Source of Vitamins, Minerals, and Antioxidants!
Chlorella (Chlorella Vulgaris) is a single-celled green algae that can be found in freshwater lakes.
Also being classified as a superfood, chlorella is a rich source of essential proteins, minerals, and chlorophyll!
Prominent Benefits:
Aids Detox and Antioxidation: May assist detox by allowing the removal of heavy metals while containing some of the essential compound of antioxidants
Chlorella (Chlorella Vulgaris) is green algae that are obtained from freshwater lakes. The chlorella is rich in proteins 60%, chlorophyll, and minerals. Boost immunity, reduce fatigue, and provide the body with all amino acids. This nutrient-dense superfood is packed with 60% protein, amino acids, plus various vitamins, fiber, enzymes, CGF (Chlorella Growth Factor), and minerals. Strongly Supports Colon Health, Digestive Function, and Overall Well Being. 100% natural.

Ingredients: 100% Chlorella
Amount: 190 g
Bruto weight: 200g (0.44lb)
Usage: Eat 5 - 10g of chlorella a day. It can be added to cocktails and salads. Do not use this product as a substitute for a complete and balanced diet. We advise not to exceed the recommended daily allowance. Store in a cool, dry place; do not freeze; protect from direct sunlight.







[1] Merchant, R. E., & Andre, C. A. (2001). A review of recent clinical trials of the nutritional supplement Chlorella pyrenoidosa in the treatment of fibromyalgia, hypertension, and ulcerative colitis. Alternative therapies in health and medicine, 7(3), 79–91.
[2] Panahi, Y., Darvishi, B., Jowzi, N., Beiraghdar, F., & Sahebkar, A. (2016). Chlorella vulgaris: A Multifunctional Dietary Supplement with Diverse Medicinal Properties. Current pharmaceutical design, 22(2), 164–173. https://doi.org/10.2174/1381612822666151112145226.
[3] Panahi, Y., Pishgoo, B., Jalalian, H.R., Mohammadi, E., Taghipour, H.R., Sahebkar, A. And Abolhasani, E. (2012), Investigation of the effects of Chlorella vulgaris as an adjunctive therapy for dyslipidemia: Results of a randomised open-label clinical trial. Nutrition & Dietetics, 69: 13-19. https://doi.org/10.1111/j.1747-0080.2011.01569.
[4] Otsuki, T., Shimizu, K., Iemitsu, M., & Kono, I. (2011). Salivary secretory immunoglobulin A secretion increases after 4-weeks ingestion of chlorella-derived multicomponent supplement in humans: a randomized cross over study. Nutrition journal, 10, 91. https://doi.org/10.1186/1475-2891-10-91.