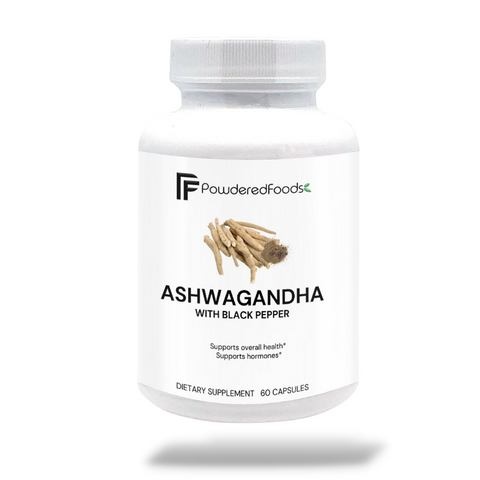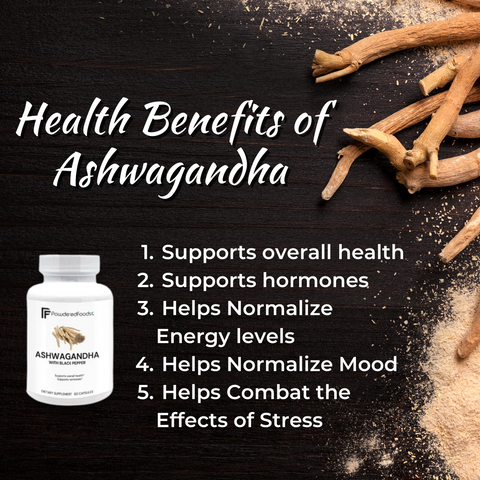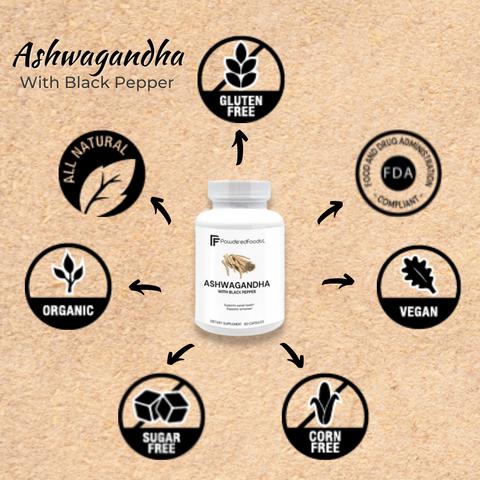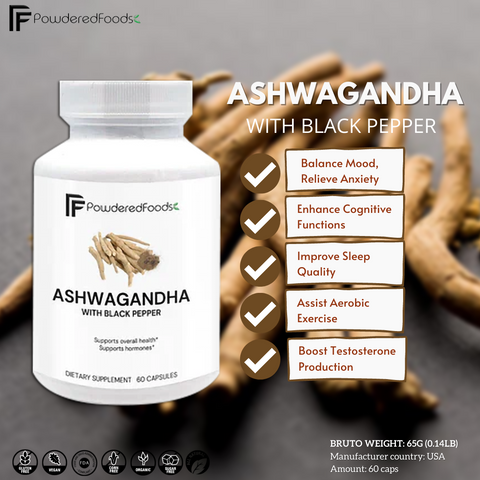 Powdered-Foods
Ashwagandha
Ashwagandha – Relieve Anxiety, Enhance Memory!
Dubbed as the "Indian Ginseng," Ashwagandha roots have been in use for its calming, relaxing, and anxiety relieving effects for thousands of years![1]
Produced into powdered from the highest quality raw ingredients and capsuled with care!
Prominent Benefits:
Ashwagandha is known as one of the most powerful herbs on the market and is most well known for its restorative benefits.

Ashwagandha:
Supports overall health

Supports hormones

Helps Normalize Energy levels

Helps Normalize Mood

Helps Combat the Effects of Stress
Ingredients: Organic Ashwagandha (Withania somnifera)(root), Organic Black Pepper (Piper nigrum)(fruit)
Manufacturer country: USA
Amount: 60 caps
Bruto weight: 65g (0.14lb)
Usage: As a dietary supplement take two (2) capsules once a day. For best results take 20-30 min before a meal with an 8oz glass of water or as directed by your healthcare professional
Caution: Do not exceed recommended dose. Pregnant or nursing mothers, children under the age of 18, and individuals with a known medical condition should consult a physician before using this or any dietary supplement






[1] Tandon, N., & Yadav, S. S. (2020). Safety and clinical effectiveness of Withania Somnifera (Linn.) Dunal root in human ailments. Journal of ethnopharmacology, 255, 112768. https://doi.org/10.1016/j.jep.2020.112768.
[2] Tandon & Yadav (2020).
[3] Ng, Q. X., Loke, W., Foo, N. X., Tan, W. J., Chan, H. W., Lim, D. Y., & Yeo, W. S. (2020). A systematic review of the clinical use of Withania somnifera (Ashwagandha) to ameliorate cognitive dysfunction. Phytotherapy research : PTR, 34(3), 583–590. https://doi.org/10.1002/ptr.6552.
[4] Choudhary, D., Bhattacharyya, S., & Bose, S. (2017). Efficacy and Safety of Ashwagandha (Withania somnifera (L.) Dunal) Root Extract in Improving Memory and Cognitive Functions. Journal of dietary supplements, 14(6), 599–612. https://doi.org/10.1080/19390211.2017.1284970.
[5] Salve, J., Pate, S., Debnath, K., & Langade, D. (2019). Adaptogenic and Anxiolytic Effects of Ashwagandha Root Extract in Healthy Adults: A Double-blind, Randomized, Placebo-controlled Clinical Study. Cureus, 11(12), e6466. https://doi.org/10.7759/cureus.6466.
[6] Pérez-Gómez, J., Villafaina, S., Adsuar, J. C., Merellano-Navarro, E., & Collado-Mateo, D. (2020). Effects of Ashwagandha (Withania somnifera) on VO2max: A Systematic Review and Meta-Analysis. Nutrients, 12(4), 1119. https://doi.org/10.3390/nu12041119.
[7] Lopresti, A. L., Drummond, P. D., & Smith, S. J. (2019). A Randomized, Double-Blind, Placebo-Controlled, Crossover Study Examining the Hormonal and Vitality Effects of Ashwagandha ( Withania somnifera) in Aging, Overweight Males. American journal of men's health, 13(2), 1557988319835985. https://doi.org/10.1177/1557988319835985.